Charles Ogilvie, director of in-flight entertainment at Virgin America, has a special Blackberry just for in-flight suggestions. Seriously. They are sent to him directly, every day. So whip out those consoles and start thumb-jabbing. (only bummer is, he's leaving Virgin for Panasonic, so that may be ending shortly)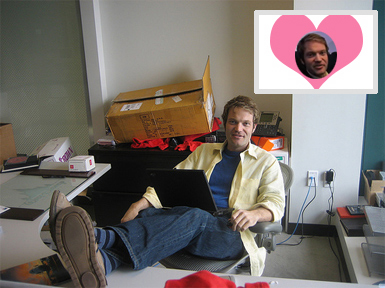 My next in-flight suggestion: I heart you, Charles. Please give me the internets and copious amounts of free booze.
Of course, there were other highlights at the PSFK conference in San Francisco. For example, Jen Bekman's desire to be the "gateway drug" of the art world by offering cheap limited edition prints to art newbies. Naturally her hope is that like any good drug, she'll be able to feed their addiction once they get hooked.
Also, whoever thought that Microsoft would be on the cutting edge of branded environments? Hotel Sax in Chicago looks like a yuppie technophile's dreamland.
For more, check for video coverage and updates on the conference site.